Koh Chang VS Koh Lanta, Thailand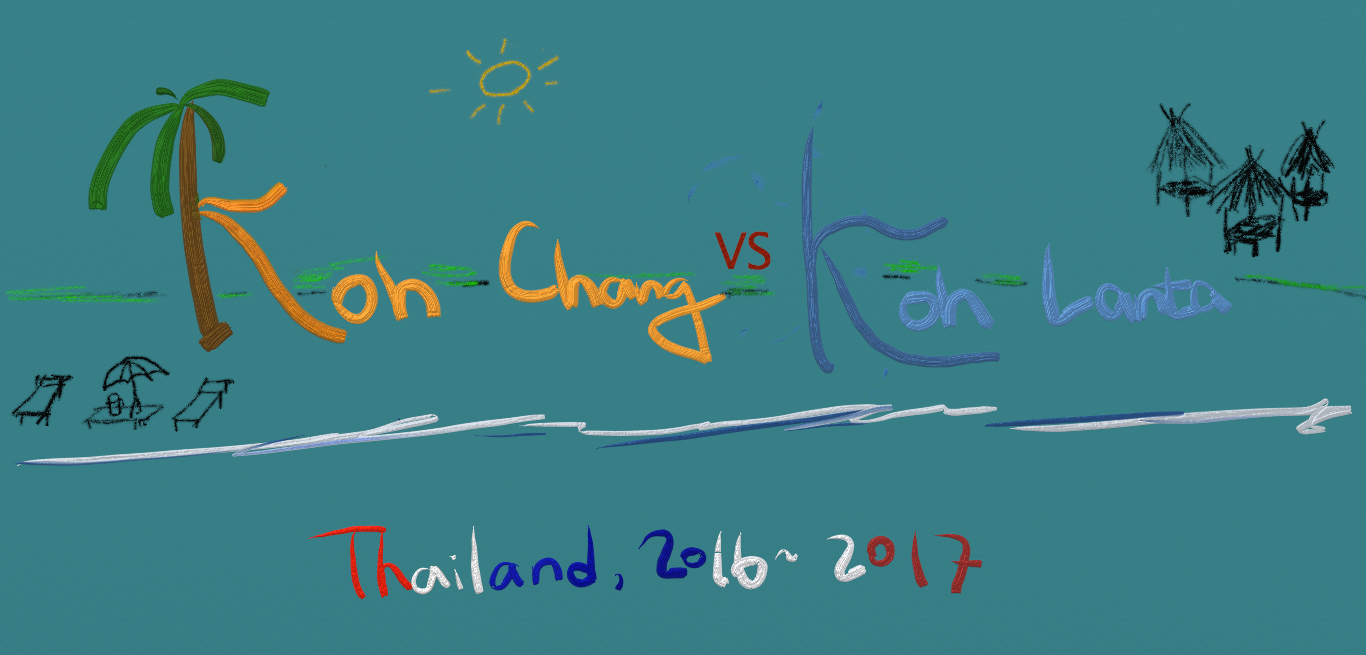 We have been to Thailand a few times so far. Because we live in New Zealand whenever we want to go to Europe we like to stop over Southeast Asia to break down the 3 days-long-flight journey. Thailand is our favourite Asian country.
We have been to These Two Islands in the separate times of the visits. Both times were not in the high season, Koh Chang has a bit more actions around the island. Also, cleaner beaches and well-presented town along the beach.
Both Islands have plenty of choices for accommodations, restaurants and tour offices along with the beautiful coastline. There are pubs and restaurants right on the beaches. We enjoyed our beach walk every afternoon for the photogenic sunsets and a beer or cocktails at the beach. Everything that you want to do here can be easily arranged.
We stayed reasonably nice places in both islands.
Koh Chang: October 2016
-Paradise bungalow Klong Prao(Kai Bae beach) 3nights 790 THB per night.
Located in the middle of the main street, Kai Bae beach. Very handy to reach good restaurants, 7/11 and fruit stalls. Right next to the elephant camp; could hear and see the group of elephants everyday. Reasonably well presented with the nice garden and clean bungalows but the room is too small and dark.
-Green cottage 600THB per night
Right by the Bailan beach with swimming pool. Nice beach-bungalow feeling with the sea view and the beautiful sunset. Bungalows and pool need a little more attention. Clean but old facilities. Bailan beach is not the very busy area at least the time when we were there. Few local restaurants and small mini markets.
-Took ka ta kai Moon: in the middle of Kai Bae Beach, Koh Chang- Our pick. We went to the restaurant many times for lunch and dinner. Very cheap and tasty plus great ranges of food.
-Barrio Bonito: Mexican food in the nice atmosphere.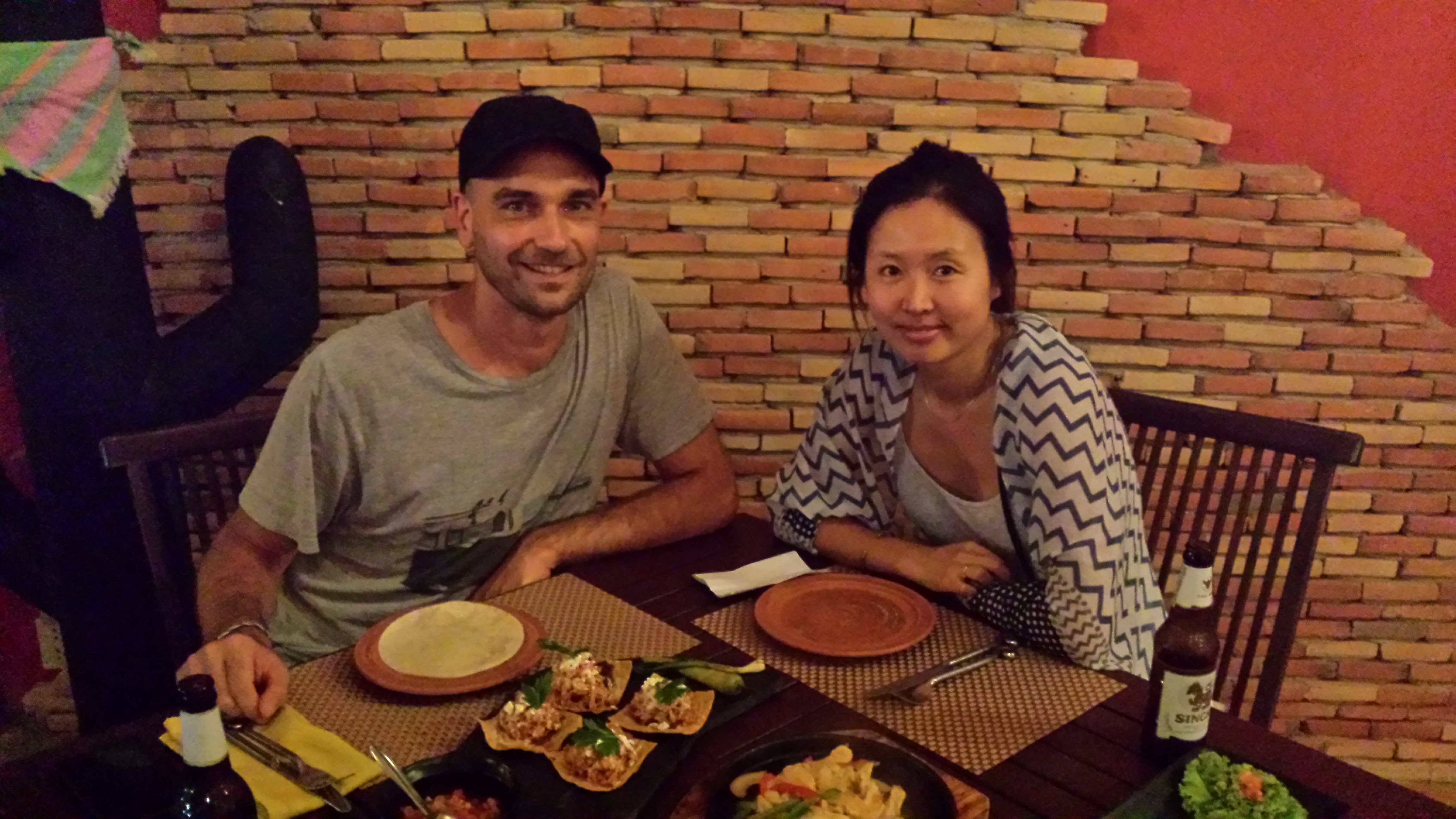 -Papa's Deli & Bakery: good breakfast place with sandwiches and real coffee
-Tamarin: good Thai food
-Happy Turtle: had our breakfast. I didn't like the pancakes.
-IdoIdo : nice place for afternoon snack or beers and swim.
-Klong Plu waterfall: Entrance fee 200 THB per person. We took a motorbike to the entrance. You can be lured to park your bike or car before the entrance for the small fee but you can park for free in the park after you pay entrance fee It took about 30 minutes to walk to get to the waterfall. The walk is not hard but a little bit rocky and can be slippery. The waterfall is not too big but nice enough for a cool dip. There were a turtle, lots of fish in the water and of course many tourists.
-Beach hopping: This island offers a few different beaches, the busy Khlong prao to remote ones. We rent a motorbike and visited these beaches. Water is nice warm and clean, good for swimming.
-Elephant riding or tour
-Bars and restaurants
             2. Koh Lanta: October 2017
We flew to Bangkok 3 days ago. We spent the crazily busy time in Bangkok. After some shopping and visiting the dentist in Bangkok, again, flew to Krabi and took a minivan to a quiet island, Koh Lanta. Because it was the low season the streets were very quiet.  I was a little disappointed by a lot of rubbish covered on the beach. They might clean up sometimes but for the time while we were there, we couldn't swim in the ocean. Luckily we stayed a nice bungalow with a pool. We took an easy relaxing time on this island.
– Siam Lanta Resort 7 nights 650 THB per night.
Located a little further from the main tourist section. Very clean and nicely presented. Bonus a clean swimming pool. The owner is really nice and friendly. He let us use the motorbike for free, brought us fish BBQ for the last night we stayed.
We couldn't find any good restaurants in this time. The food prices were also a little bit overpriced and not so tasty. We always loved Thai food every time we visited Thailand. However, Koh Lanta was not very memorable in terms of food.
-Lanta Animal welfare centre: Spent a nice quaily afternoon with animals. Donations for them.
-Old town: Restaurants with nice view by the beach
-Muslim culture
-Beach hopping
---
---