Valparaiso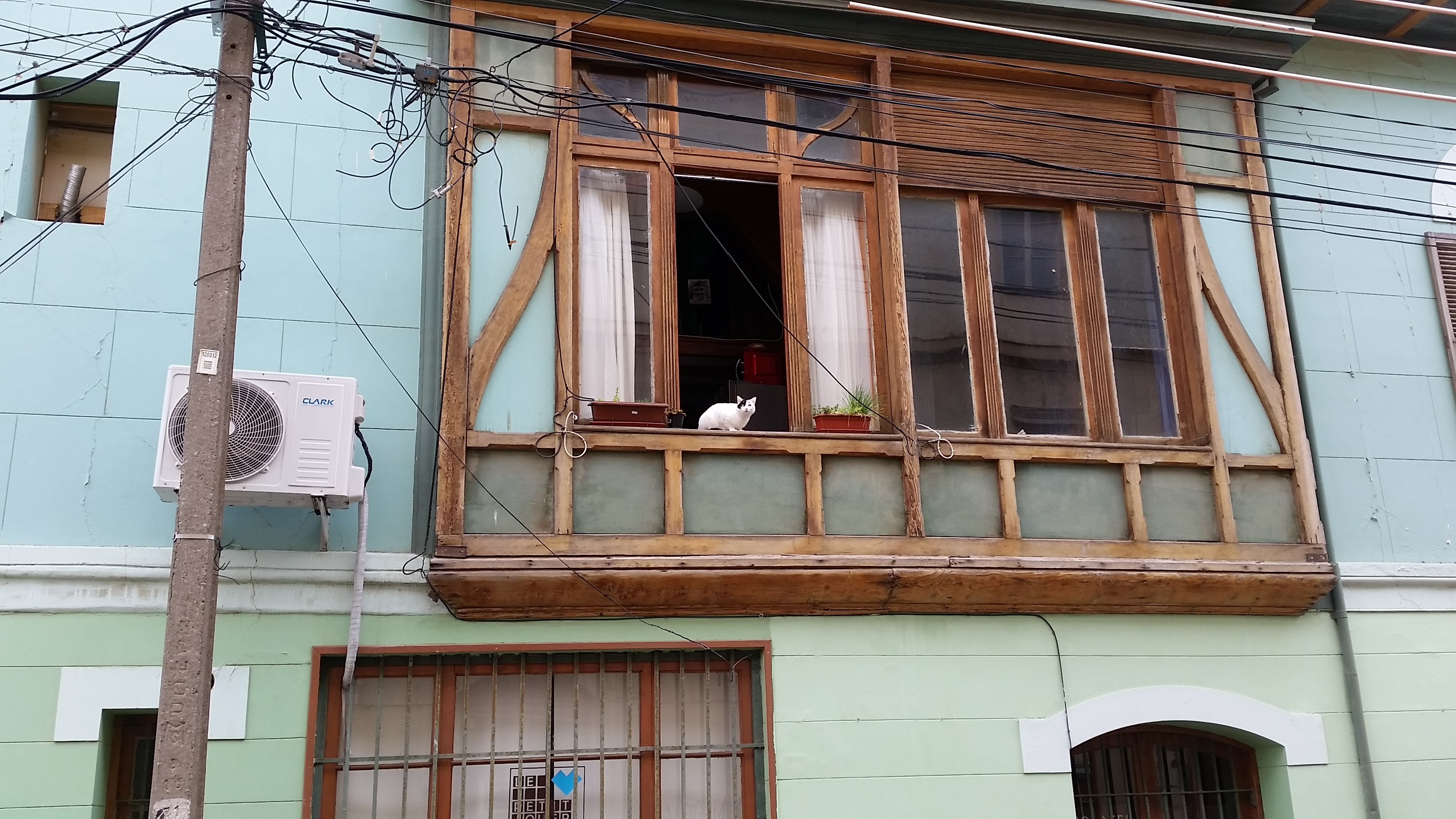 I had no clue about Valparaiso until I got there. Valparaiso is the most dangerous city in Chile with the highest crime rate. I made sure all my belongings were in the secured orders. I was watching my stuff, both left and right sides and behind of me on the streets. The first local bus trip from Santiago to Valparaiso was the very exciting journey. We were with an American friend, David who we met in Santiago. We all managed to get on the bus safety and enjoyed the view from the bus window. We arrived at the bus station around lunchtime. We wanted to get to the hostel we booked first. We took a cab very carefully. We drove up to the steep hills. We always unsure of safety for taking a taxi in a foreign country.
Finally, we got in our room in the hostel after the nerve breaking taxi ride and 20 minutes waiting outside the hostal.
We took a city-day tour through the historic hills. It was AMAZING!! The buildings and houses look very different from anything as well as the graffitis on the walls were incredible. Some of the streets on the hills are supposedly dangerous to walk around by ourselves. Getting around in Valparaiso as a traveller need to take extra care for security. However, this is a really special place you must see.
Highlights
Hostal juanita Lazo Stayed 4nights Located in living quarter – ***Nice night view and very quiet. Very hilly, a little bit far from the centre.
Walking at night time can be thrilling – panicked when we got off from the bus at late night and got lost for few minutes. Managed to run into the hostal safely
Free walking tour through old historic hills – interesting architecture and graffiti, ascensor(historic quarter of the seaport: UNESCO World Heritage)
Overpriced boat tour 30minutes around the harbour and seeing a big sea lion. You can find some people who want you to get on their boat at the port. You can negotiate the prices with them.
Take a public bus to the fish market, very run down, not many people, walking along the shore all destroyed for some reasons.
Massive Earth Quake and Tsunami warning sirens Downtown and the low area are all evacuated by Tsunami warning. Such a unique and shocking experience.
Pablo Neruda house – ascensor and sketchy walk to the place. Take the old ascensor from the bottom of the hill and walk more up to the hill for 15minutes. Nice view from his study room on the top floor. Interesting pieces of vintage furniture.
Ride in local buses and colectivo – Local buses are running private in Chile. Public transport is relatively well connected. There are always buses to get to the destinations. Colectivos are very good means to get around in town. Its a shared taxi normally has a regular route. It can be flexible if you ask.
Eating a negrito in a local bakery – Try Local cakes and sweets.
Fruit juice – Chile has plenty of fruits. Fresh Jogo(Juice) shops are everywhere. Ask for Sin Agua which contains 100% fruits
Trying 2 Liter jar of Kross beer (good craft beer) with Chorrillana(Chips with slices of sausages, onions and fried eggs on top) *If you are not a big eater, enough to share one plate with 2 people.
[wpgmza id="1″]
---